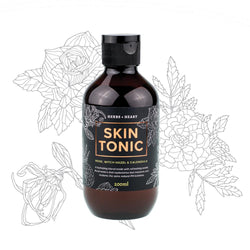 Skin Tonic
Blooming with aromatic floral waters that moisturise and replenish, our H+H Skin Tonic harnesses the trinity of Rose, Witch Hazel & Calendula to rescue dull, stressed out skin.
This botanical toner is a simple addition to your routine that delivers a mighty nutrient rich hit. Removing any final traces of makeup and impurities to best prepare your skin for a moisturiser or serum to follow, The H+H Skin Tonic also works to clarify and replenish, restoring the skins natural PH without over-drying.
Blended with the all time favourite skin serving ingredients including Rose, a pore-refining hydration essential, we combine this with the astringent and unparalleled anti-inflammatory properties of Witch Hazel and Calendula that work together to even skin texture and diminish the appearance of dull skin, blemishes and redness. 
Rosa Damascene Aqua (Rose Hydrosol)*, Hamamelis Virginiana (Witch Hazel Extract)*, Aloe Barbadensis Leaf Juice (Aloe Vera Water) Calendula Extract*. Thymus Vulgaris Extract (Thyme Extract), Vegetable Glycerin, Parfum (Natural Preservative derived from Sweet Almonds)
*Certified Organic
Learn more about the above botanicals and their incredible benefits by browsing our comprehensive Ingredients Glossary
ROSE
Rose water is nature's toner. A natural astringent, rose helps tighten pores and restore suppleness for a glowy complexion. Unlike conventional alcohol based toners that dry skin out, rose water has excellent emollient properties containing a complex array of vitamins, minerals, and antioxidants. Rose water balances PH, whilst the natural oils found in roses helps to lock in moisture. The sugars found in rose petals have anti-inflammatory properties, especially ideal for those with sensitive skin to treat redness and irritation.
Rose petals contain a high amount of Vitamin C, known to aid the skins natural sun protection. Combined with it's cooling properties that soothe skin, rose water in a toner helps to repair and protect the outer layer from sun damage. Lastly, the wonderful aroma is a known mood enhancer. A study showed that the aroma of essential oils can transmit messages to the limbic system positively affecting biological factors such as lowering cortisol levels.
WITCH HAZEL
Witch Hazel as a hydrosol is a natural astringent that is extracted from the leaves and bark of the North American shrub Hamamelis virginiana. Its proven record to radically improve skin texture, treat skin ailments like eczema, acne and even varicose veins is owed to the high number of tannins found in the leaves of the plant. Whilst witch hazel actively sweeps away excess oil and sebum, the tannins act to tighten the pores whilst forming a protective skin barrier to lock in moisture. Witch Hazel is also a defender against sun damage. Tannins and polyphenols are known to inhibit the proliferation of melanoma cells, helping to protect healthy skin cells as you age.
CALENDULA
The Calendula Flower has been used for generations for medicinal purposes, especially in skin preparations. It is well known for its supreme ability to promote fast healing in wounds and aid regeneration of skin with minimal scarring. The molecular make up of Calendula boasts many skin benefitting properties such as carotenoids, flavonoids, mucilage, glycosides, and polysaccharides. These anti-oxidants protect skin cells from the damage of Oxidation. Oxidation produces oxygen free radicals, natural chemicals that are said to suppress immune function and weaken the skin barrier. In simple terms, Calendula is a powerful restorative and anti-aging addition in skincare.