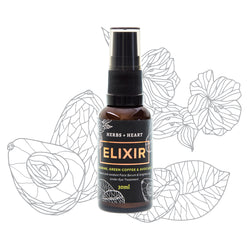 Elixir
This divine serum is packed full of enriching anti-oxidants, skin-repairing vitamins and essential fatty acids, with a touch of gold that manifests in naturally radiant, glowing skin.
The Herbs & Heart 'Elixir' is a real treat for your skin. A light serum designed to rescue dull, stressed skin, Elixir is the perfect go-to when your skin is in need of an extra pampering. It's light texture glides on smoothly and melts into your skin. With light reflecting gold particles and a supple matte finish, Elixir is also a perfect under make up primer.
Enzymes of the Green Coffee bean are loaded with anti-oxidants to fight free radicals, soothing puffy eyes and reducing the appearance of under eye dark circles. The exotic addition of Jasmine is the key to hydration in this formula, whilst also helping even out skin tone by healing blemishes & scars. Rich essential fatty acids & antioxidant carotenoids from Avocados not only help to fight free radicals, high amounts of Vitamin C also stimulate elastin and collagen to keep skin looking firm and youthful. 
*Please note 100ml Custom Bottles may come with a different label. 
Jasminum grandiflorum hydrosol (Jasmine Hydrosol)*, Persea Gratissima Oil (Avocado Oil)*, Coffea Arabica Extract (Green Coffee Extract)*, Davidsona Pruriens Extract (Davidsons Plum Extract)*, Pyrus Malus Extract (Apple Extract), Ascophyllum Nodosum Extract (Seaweed Extract), Gold Mica, Acacia Senegal Gum, Xanthan Gum, Silica, Gluconolactone (Natural Preservative derived from Corn Syrup), Sodium Benzoate (Sodium Salt of natural Benzoic Acid), Tocopherol (Vitamin E), and Michelia Champaca Flower Oil (Champa Oil).
*Certified Organic
Learn more about the above botanicals and their incredible benefits by browsing our comprehensive Ingredients Glossary
GREEN COFFEE BEAN
Green Coffee Beans are the unroasted cold processed beans that provide numerous skin benefits when applied topically. With high concentrations of essential fatty acids, sterols and vitamin E, Green Coffee Beans are a vital anti-oxidant offering protection against sun damage. This protection is related to the essence of caffeine, and its ability to increase apoptosis (programmed cell death) of UVB damaged keratinocytes, which remove damaged skin cells before they cause photo aging and skin cancer. Caffeine also effectively targets and diminishes the appearance of crow's feet, whilst revitalising the skin support cell health for firm, healthy skin.
JASMINE
Long known for it's health benefits as well as it's lovely natural fragrance, Jasmine has been found to nourish skin, help even skin tone, and protect skin from environmental stressors. The botanical extracts of Jasmine increase skins elasticity by balance moisture in the skin, naturally reducing dryness. A potent anti-septic, anti-baterial, and anti-viral thanks to compounds of benzaldehyde, benzoic acid, and benzyl benzoate, Jasmine protects the skin by boosting the skin's immunity and creating a substantial barrier from invading offenders, especially as the seasons change.
AVOCADO
We already know Avocados are full of good fats, what we mean by this is the poly and monounsaturated fats found in the flesh of the fruit. Monounsaturated fats keep the top layer of your skin moist so it's soft and healthy looking. Polyunsaturated fatty acids guard skin from sun damage and protect against symptoms of skin sensitivity and inflammation. Avocados also contain a high amount of antioxidants. Carotenoids, vitamin E and vitamin C, help protect against the damage of free radicals. One particular carotenoid, lutein, promotes the water content and elasticity of skin and decreases the destruction of beneficial skin lipids, whilst Vitamin E protects you from ultraviolet light. Your body needs vitamin C to make collagen, which is the main structural component of skin and the source of its elasticity and firmness.