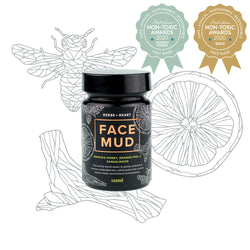 Face Mud
An earthy blend that works to gently exfoliate & remove embedded dirt, whilst potent bio-actives deliver deep nourishment & hydration.
Face Mud is blended with the 3 elements of Manuka Honey, Orange Peel & Sandalwood. Manuka Honey activates to natural hydrogen on contact with water, drawing out impurities deeply embedded within the skin, whilst delivering a healthy dose of Amino Acids and B vitamins to provide an added anti-ageing benefit. Gentle powders of Sandalwood & Orange Peel work in tandem to provide gentle exfoliation, scrubbing away dead skin cells to reveal bright, glowing skin hit with a dose of pure Vitamin C. For added nourishment, we have combined the hydrating properties of Coconut, Aloe Vera & Apricot, to leave your skin feeling supple, soft and brand new.
Directions: Your Face Mud has a clay like consistency, nice and concentrated in the jar. To use, simply dilute with a little water to make as thin or as thick as your prefer. We like to splash our face with water, and use our wet palms to get the product moving (A fingernail size is more than enough) adding a few drops as needed. Massage over the face and rinse away - don't forget to feel your skin after patting dry. If it isn't the softest skin of your life, we'll eat our own socks!
Manuka Honey, Cocos Nucifera Oil* (Coconut Oil), Maris Sal (Dead Sea Salt), Sodium Chloride (Himalyan Salt), Citrus Aurantium Amara (Bitter Orange Powder)*, Santalum Album Powder (Sandalwood Powder), Aloe Barbadensis Leaf (Aloe Vera Powder), Vegetable Glycerin, Prunus Armeniaca Kernal Oil* (Apricot Oil), Juglans Regia Powder (Walnut Hull Powder), Tocopheryl (Vitamin E), Glyceryl Cocoate (Coconut Derived Emulsifier), Origranum Vulgare Leaf Extract (Oregano Leaf), Thymus Vulgaris Extract (Thyme Leaf), Cinnamomum Zeylanicum Bark Extract (Cinnamon Bark), Rosmarinus Officinalis Leaf Extract (Rosemary Extract), Sorbitan Carylate (Natural Preservative derived from Coconut Oil), Propanediol (Natural Preservative derived from Corn Syrup), Benzoic Acid (Natural Preservative derived from the Chinese Balsam Tree), Lavandula Angustifolia Flower Extract (Lavender Flower Extract), Citrus Lemon Peel Extract, Mentha Piperita Leaf Extract (Peppermint Extract), Hydrastis Canadensis Root Extract (Goldenseal Root Extract), Olea Europaea Leaf Extract (Olive Leaf Extract).
*Certified Organic
Learn more about the above botanicals and their incredible benefits by browsing our comprehensive Ingredients Glossary
MANUKA HONEY
Manuka Honey is derived from the native Manuka Bush Found in New Zealand. Amongst all varieties of Honey, Manuka is esteemed as an 'active' Honey, owing to its unique enzyme composition and superior therapeutic properties. A potent anti-bacterial, anti-inflammatory, anti-fungal, and anti-microbial, Honey's self preserving nature makes it a premium addition in skincare to protect & repair the skin barrier.
Honey's complex architecture of essential vitamins and Amino acids provide the building blocks of collagen, whilst the methylglyoxyl factor (MG) has been shown to increase collagen cross-linking, & promote structural integrity of collagen in skin cells.
With an optimal PH of around 4.5 in sync with our skins natural PH; Honey makes an excellent face cleanser that does not disturb the delicate acid mantle of our skin. The hygroscopic nature of honey draws out the dirt and grime trapped in hair follicles and facilitates the free flow of natural oils. Upon contact with water honey produces natural hydrogen peroxide, gently exfoliating away dead skin cells to reveal clean, bright skin. As a natural humectant, honey draws in moisture into the skin. This hydration helps to further enhance the skin's elasticity and cell regeneration, as well as promote healing.
ORANGE PEEL
Orange Peel powder is a natural astringent and extremely effective cleanser. Deep cleaning pores to surface dirt and gently exfoliating dead skin cells, Orange peel detoxifies the skin whilst prevent blackheads, whiteheads, & acne. Nutrient rich calcium, magnesium & potassium, Orange Peel Powder prevents oxidative stress in skin cells. Its concentration of Vitamin C is effective in regenerating skin cells and revealing bright glowing skin.
SANDALWOOD
It's wonderful aroma is surprisingly not why we love Sandalwood. Working as an anti-blemish, Sandalwood has for centuries been the go-to for evening out skin tone, and bringing out the skins natural radiance. A wonderful addition when looking after your skin in the summer, Sandalwood has special properties to relieve skin irritated by prickly heat. Sandalwood is exceptionally gentle, with a special quality of 'skin softening', it leaves skin feeling baby soft.