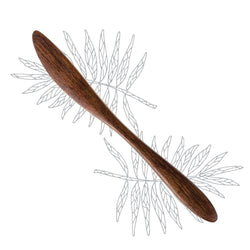 Hand-crafted Wooden Spatula
Love Face Mud? Meet Face Mud's new best friend – our hand crafted beautiful wooden spatula. This new and improved tool is the perfect length to scoop down to the very bottom of your jar, to aid in mixing the mud with water, and even use as an applicator when applying your Face Mud on as a mask.
This spatula is also featured in our 'Greater Good' Shop, where 100% of all profits from purchasing this tool goes to one of our chosen causes.