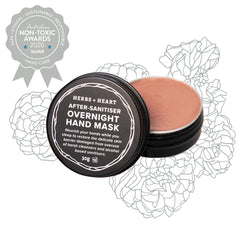 After-Sanitiser Overnight Hand Mask
Over-using harsh soaps & alcohol sanitisers damages our delicate skin barrier, making it even more vulnerable to bacteria. It's important we look after the health of our hands as part of our overall well being. 
Introducing our After-Sanitiser Overnight Hand Mask. This is the real deal no nonsense solution to solving all your hand-repairing-moisture-replenishing needs.
10x richer than just any hand-lotion, this mask works it's magic while you sleep. We designed this formula to be used at night so that it doesn't interfere with your daytime hand care. Think of this product as a companion to your Sanitiser – and use in conjunction for optimal hand health.
The mask is formulated with nourishing oils and butters to soothe and encourage a healthy skin barrier. To use, you only need a pea-sized amount to massage over your hands just before bed. Pop on a pair of our cotton gloves for even deeper moisturising action. You will be delighted at how incredibly soft and happy your hands feel in the morning!
Pair this with our Cotton Overnight Gloves for maximum hydration.
Mango Butter, Hemp Seed Oil, Polyglycerol-3 Beeswax, Calendula Extract, Vitamin E, Wild Vetiver Extract.