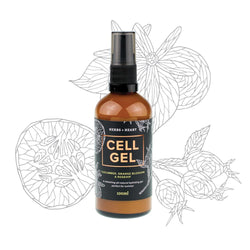 Cell Gel
Combining Refreshing Cucumber, Soothing Neroli, and our Anti-Ageing Champion Rosehip, this gel is sure to become your moisturising best friend this summer.
The Herbs & Heart 'Cell Gel' is a wonderful saving grace for skin that is stressed by the hot sun during summer months. Whilst sun exposure is endorsed for the absorption of Vitamin D, even a little extra can leave our skin feeling dry, and irritated. Lets not forget to mention it is also the number one cause of pre-mature ageing! Cell Gel plays a vital role in healing the damaged skin barrier and reinforcing the cells natural ability of sun protection. With the many added benefits of a sophisticated anti-ageing system combined with intensive hydration properties, this gel has a cooling affect when applied that feels ultimately self-indulgent.
Aloe Barbadensis Leaf Juice* (Aloe Vera Water), Citrus aurantium Flower Extract (Orange Blossom Hydrosol)*, Cucumis Sativus Extract (Cucumber Extract)*, Rosa canina Fruit Oil (Rosehip Oil)*, Hydrolyzed Wheat Protein, Acacia Senegal Gum, Xanthan Gum, Panthenol (Vitamin B5), Carbomer, Dl-alpha Tocopheryl (Vitamin E), Parfum. (Natural Preservative derived from Sweet Almonds)
*Certified Organic
Learn more about the above botanicals and their incredible benefits by browsing our comprehensive Ingredients Glossary
ORANGE BLOSSOM
Orange Blossom hydrosol is extracted from the white flowers of the Bitter Orange tree. Also known famously as Neroli, Neroli Hydrosol contains natural alpha hydroxyl acid that gently exfoliates and works to minimise the appearance of pores. Ideal for sensitive skin, Neroli has a soothing effect on skin that is stressed from environmental factors. Powerful antioxidants in Neroli hydrosol protect skin from notorious free radicals that steal oxygen from healthy skin cells which leads to premature fine lines, wrinkles and sagging skin.
CUCUMBER
There are many facets that make cucumber the holy grail for skincare. Cucumbers contain high amounts of Vitamins C & K; and with the same level of hydrogen as naturally found in skin, Cucumber extract is a highly effective at masking and combating dull skin and dark under eye circles. Pantothenic acid, or vitamin B-5, is another compound found in cucumbers that helps your skin retain moisture. The vitamin A, or retinol, in cucumbers fights hyperpigmentation and uneven skin tone because it helps control your skin's production of melanin.
Containing several compounds such as cucurbitacins, cucumerin, and caffaeic acid, Cucumber is excellent at addressing inflammation at a cellular level, almost instantly remedying puffy eyes. With a natural source of silica, a precursor to collagen, combined with substance called phytochemicals also found in Cucumbers, your collagen production is supported, keeping skin taut and youthful.
ROSEHIP
Rose hip oil comes from the seeds of a specific variety of rose, Rosa aff. rubiginosa or Rosa moschata. Renowned as the go-to in anti-ageing, Rosehip has earned a reputation in keeping skin looking youthful. Ageing causes the skins collagen fibres to fragment, or breakdown. Essential fatty acids play a key role in the maintenance and regeneration of the elastin fibres. Unable to be produced by the body, Rosehip comprises of high amounts of omega-3, 6 & 9 that are crucial to skin health. Rosehip steps in to provide these nutrients in abundance, as well as essential vitamins E, C, B and a special form of Vitamin A. This form of Vitamin A has the ability to be penetrate through to the deeper layers of the skin, delivering nutrients at a sub-dermal level. A number of anti-oxidants contribute to fight free radical damage and make this super ingredient the key to keeping your skin healthy and happy.